American electric bike firm Lightning have unveiled their latest project – a high-tech land speed racer with 250mph+ in its sights. The Tachyon Nb has been developed in partnership with Brazilian firm CBMM who are experts in a lightweight and energy efficient material called Niobium.
The Tachyon is riddled with the stuff, from the brake discs to the swingarm and even components in the on board charger – allowing it to be more reliable and efficient. "Innovation is in Lighting's DNA," said Lightning Motorcycles CEO and Founder, Richard Hatfield.
"This partnership empowers both companies to drive electric vehicle technology to a new level. Lightning's vision is to continue to push the limits of what's possible and promote the adoption of electric motorcycles globally."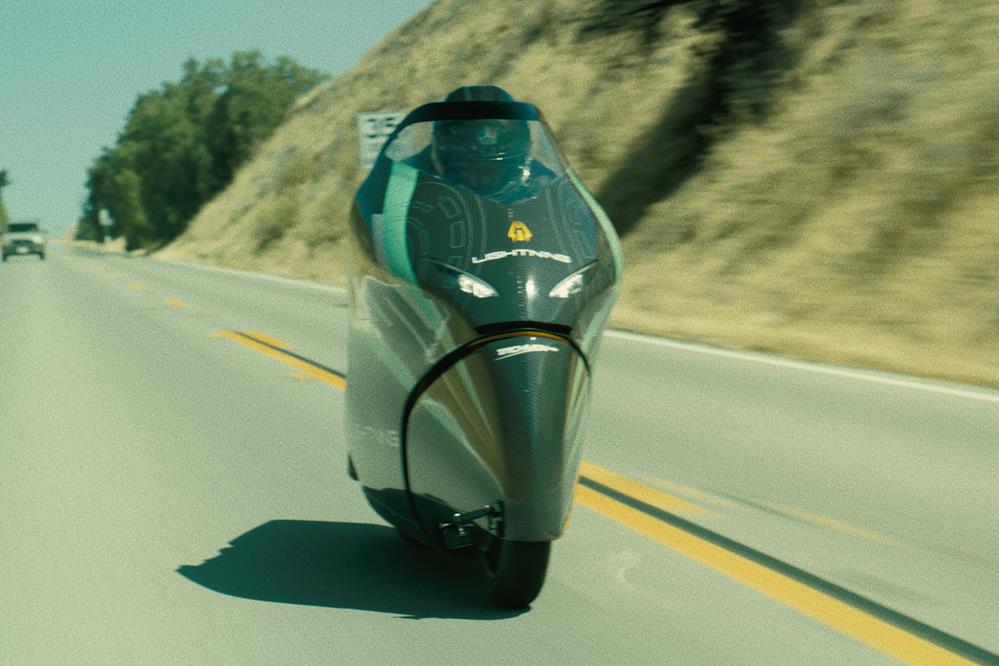 The Tachyon takes its name from a hypothetical particle theorised by physicists in the '60s that exceeds the speed of light (they also cropped up a fair bit in Star Trek) a fitting moniker for a land speed machine.
Although the speed of light is probably a bit optimistic, Lightning are intending to break the current electric land speed record (283mph by Max Biaggi on the Voxan Wattman).
Lightning are no strangers to breaking records, their previous endeavours include becoming the first electric bike to hit 200mph in 2011 (breaking their own previous record of 166mph) and winning the Pikes Peak hill climb in 2013.
---
The charge to 250mph: Lightning using new tech to go for speed record
First published on 4 February 2022 by Jordan Gibbons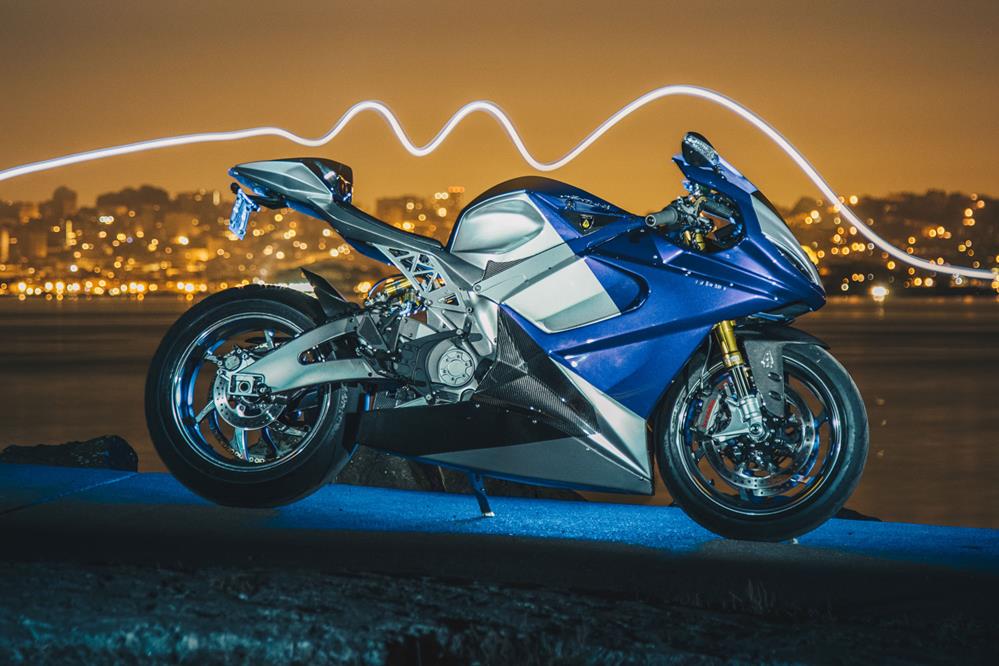 Electric motorcycle manufacturer Lightning Motorcycles have teamed up with magnet experts CBMM to create a technological leap forward that could help them break another speed record.
Lightning previously set a speed record at Bonneville in 2012 achieving a top speed of 218.96mph on one run (which is where the name for their LS-218 came from) but now they're hoping to exceed 250mph.
So what's the big idea? Brazilian company CBMM are experts in the use of a metal called niobium. Niobium is a very nifty metal as when just 0.1% of it is mixed with another metal, it forms a superalloy that is not only incredibly stable at different temperatures but also much stronger too.
It's most often found in jet engines and as a superconductor in MRI machines. It offers immediate potential for electric bikes as its its use in the cathodes and anodes of vehicle batteries enable both ultra-fast charging and greater energy density compared to traditional lithium-ion batteries.
"Currently, niobium-containing technologies are among the most advanced materials for the development of the next generation of batteries," says Mariana Perez de Oliveira, CBMM's Market Development Manager.
But how does this turn a 218mph bike into a 250mph bike? Well for a start using niobium alloys means Lightning can use less metal for the same given strength, making the bike much lighter.
The improved conductivity also means that you can get power out of the batteries faster at more stable temperatures, which means, you guessed it, more power. The knock on effect for the consumer is faster charging.
"We've been researching niobium for some time," says Richard Hatfield, Lightning Motorcycles CEO and Founder. "One example is a niobium inductor for a high power density onboard charger. The niobium inductors reduce the temperature of our magnetics by over 33% compared to our standard material."
---
Lightning ramp up LA-218 electric bike assembly line
First published 03 January 2019 by Jordan Gibbons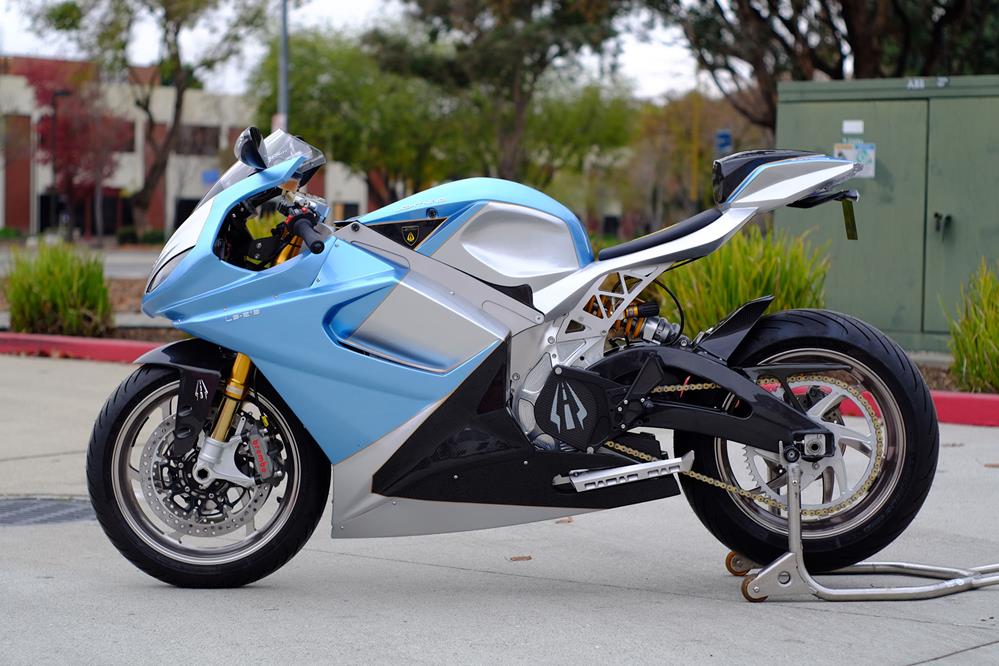 Just as the electric bike market is heating up with more manufacturers and increasing sales, US firm Lightning have entered the next stage of mass production with their LS-218 sportsbike.
While they officially delivered their first customer bike in 2014, they have been quiet in recent years but new images of bikes working their way down the production line show Lightning are serious.
History of Lightning motorbikes
Lightning first stormed onto the scene in 2010 when a prototype set an electric bike speed record of 173mph at the Bonneville Salt Flats. Two years later that record was raised to 215mph and they later set the outright record for a production motorcycle at 218mph (hence the bike's name).
A year later Lightning took the outright record at Pikes Peak, 22 seconds ahead of Ducati. The LS-218 is not all about speed, though, its standard 12kwh battery has a claimed range of 100-120 miles, while an uprated 20kwh unit bumps that up to 180 miles, with a fast charge time of just 30 minutes.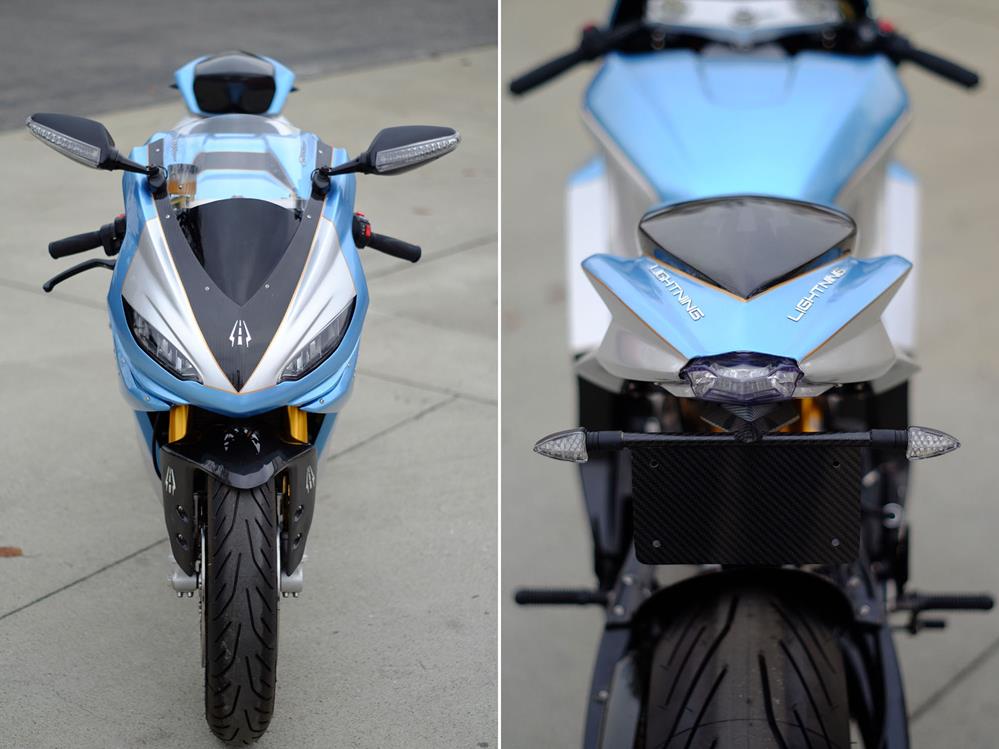 Too hot to handle
If you're unfamiliar with the LS-218, it's designed as a trackday machine with the top spec kit to match. RaceTech forks with Öhlins NIX30 internals, TTX36 rear shock, Brembo monoblocs, forged aluminium rims, machined billet swingarm… it's an electric Panigale with a price to match.
Lightning LS-218 stats
380V direct drive motor
197bhp/168ftlb
100-mile range
224kg
£30,000
And the news of Lightning's production being ramped up makes it an exciting time for electric bikes. Depending on your wants (and wallet) you will soon be able to order an array of bikes off the production lines from Arc, to a Curtiss, an Energica, a Harley-Davidson or a Zero, never mind all the other smaller operations. It's almost enough to make you tingle with excitement.
---
Meet the Lightning Strike – a more affordable electric bike!
First published 28 March 2019 by Jordan Gibbons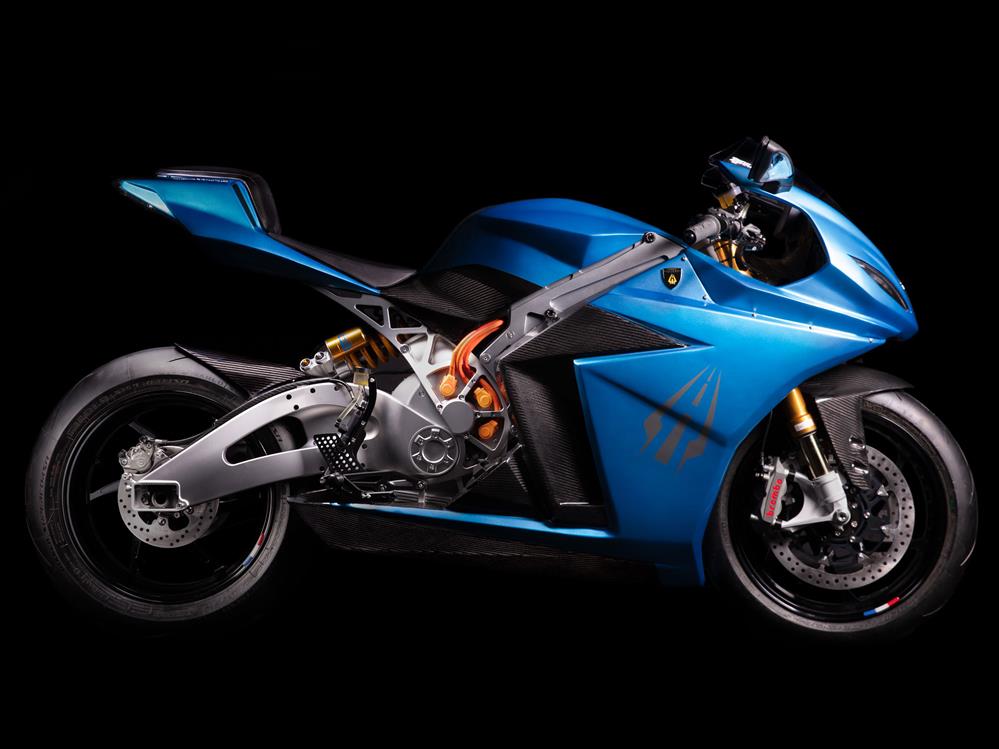 Lightning have unveiled the Strike – a new electric bike that's got the looks, the tech and a very sensible list price. This could well be the machine we've all been waiting for…
Lighting have been going since 2009 but until now they've only sold the LS-218, a high performance electric superbike with a price to match. The Strike takes what Lightning have learned developing the LS-218, but wrapped it in a more affordable package.
The standard model is powered by Lightning's new liquid-cooled AC induction motor (it's a big twist and go), which produces 88 bhp and a whopping 180 ftlbs of torque. Paired with that is a 10 kWh battery and a 3.3kW onboard charger that can be plugged in to public chargers, but is best suited to an overnight charge at home.
What's the Lightning Strike's range?
Even with all that kit on board, the standard Strike weighs just 206kg and has a 70 – 100 mile range. Lightning have achieving this by fitting the Strike with an aerodynamic fairing similar to the one developed for their land speed record setting machine.
The result is a 30% reduction in drag compared to similar unfaired machines. The best bit of the whole thing by far though is just how cheap it is – a standard Strike is $12,998 (approx. £9895). If you want to go a bit further, or a bit faster, there are other models in the range too.
For those with slightly deeper pockets, Lightning are offering the Strike Mid, which has a 15kWh battery that pushes the range up to 105 – 150 miles. There's a slight weight penalty of 4.5kg and it's quite a bit more expensive at $16,998 (£12,960). If you want to push the boundaries further still, Lightning are also offering the Carbon Edition.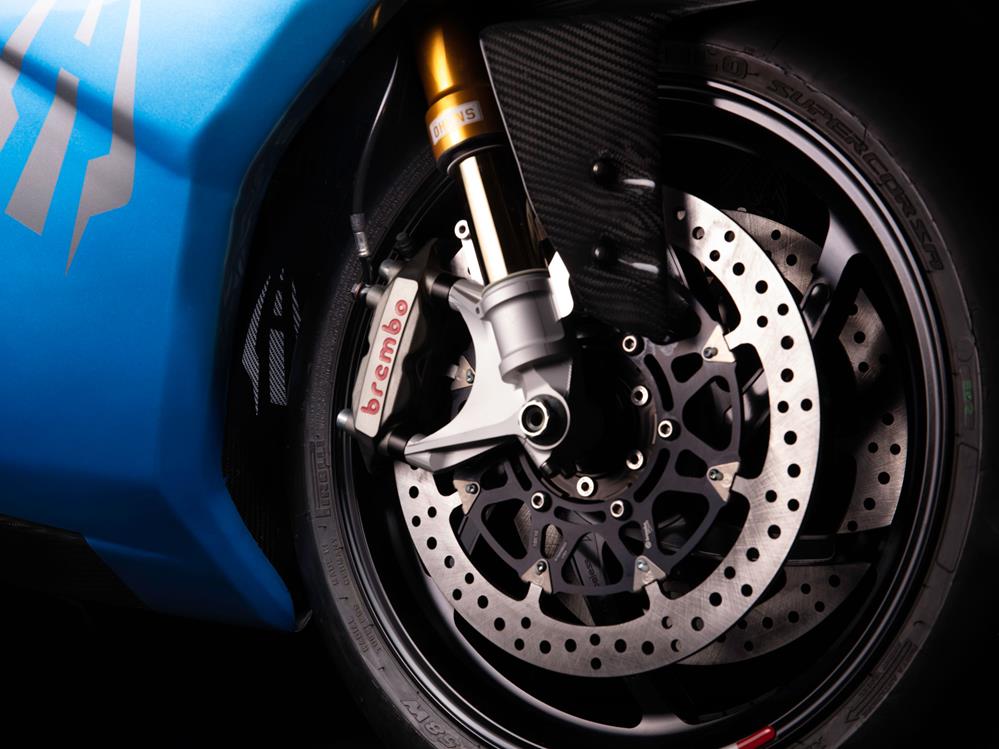 The Carbon Edition has the biggest battery (20kWh) that bumps the range up to 150 – 200 miles and also increases the output of the motor to 117 bhp. The onboard charger is also a 6.6kWh unit and it supports DC Level 3 fast charging, which can put 100 miles of range into the batteries in just 20 minutes. Again both the weight and price creep up, to 219 kg and $19,998 (£15,250). Although if you want some of the features but not all of them, battery size and charger capacity are both configurable optional extras on the standard model.
The nearest competitor to the Strike comes from Zero, however they've struggled to match good performance with a reasonable price. The Zero SR/F, which we'll be riding in the next few months, is also promising a ground-breaking step forward in performance.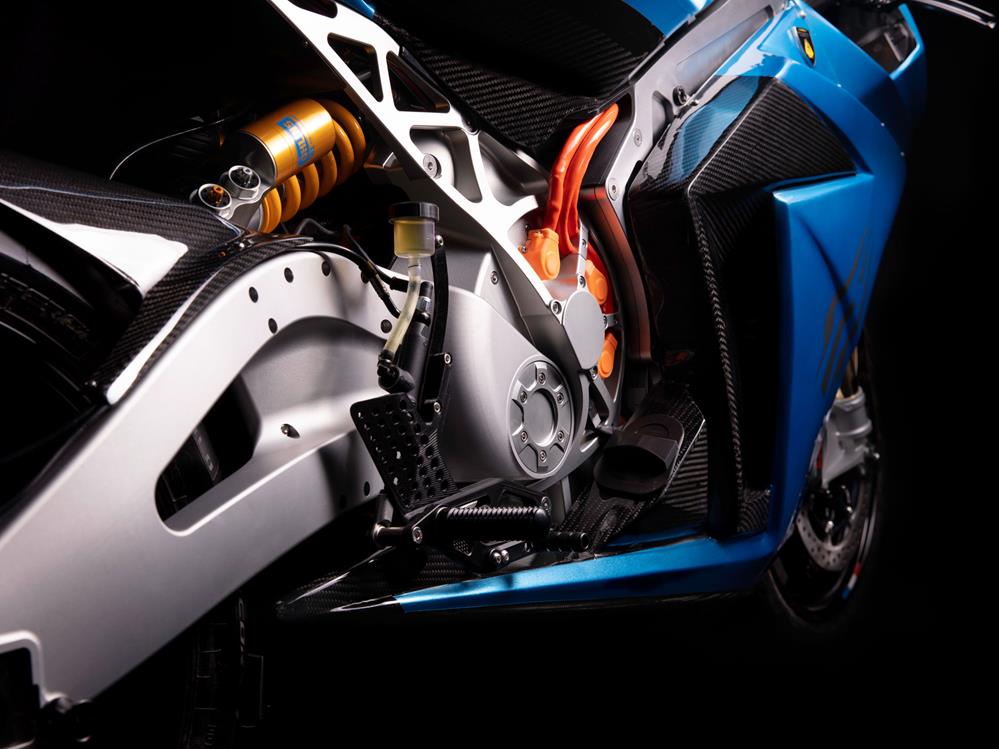 Prior to this, Lightning are best known for producing the LS-218 superbike, which has held speed records at Bonneville and Pikes Peak. They recently moved to a much larger facility to ramp up production of the LS-218 and no doubt to prepare for the expected demand of the Strike.
The Strike will go into production in July and although the models are only available in the US for now, Lightning plans to expand into Europe later this year.